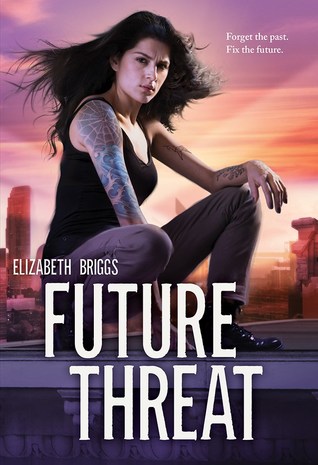 Title: Future Threat (Future Shock #2)

Author: Elizabeth Briggs
Genre: Sci-Fi
Publication date: March 1, 2017
Purchase links: Kindle Edition | Hardcover | Paperback
Rating: N/A
Recommended for: N/A
Summary:
Six months ago Aether Corporation sent Elena, Adam, and three other recruits on a trip to the future where they brought back secret information–but not everyone made it back to the present alive. Now Elena's dealing with her survivor's guilt and trying to make her relationship with Adam work. All she knows for sure is that she's done with time travel and Aether Corporation.
But Aether's not done with her–or Adam, or fellow survivor Chris. The travelers on Aether's latest mission to the future have gone missing, and Elena and her friends are drafted into the rescue effort. They arrive in a future that's amazingly advanced, thanks to Aether Corporation's reverse-engineered technology. The mission has deadly consequences, though, and they return to the future to try to alter the course of events.
But the future is different yet again. Now every trip through time reveals new complications, and more lives lost–or never born. Elena and Adam must risk everything–including their relationship–to save their friends.
Review:
Thanks to Netgalley for providing me with a digital ARC of Future Threat!
"And so we remain, trapped in this strange limbo where he takes one step forward and I take another back. A never-ending dance that leaves us both unsatisfied."
DNT at 8%
I am the kind of person who mostly feels as though she needs to finish a book once she has started it. But my TBR is so big that I've gotten to a point where I tell myself the following: If I am not enjoying a book, I will not read it.
I didn't get far enough into Future Threat to be able to say if it's a good book or not. It might be fantastic for all I know but at this point, I am not willing to figure that out.
My biggest problem with the book is this: I  read Future Shock recently, and I feel as though it would have been just fine as a standalone. The first book had an open ending, but it gave enough closure and an idea of what the characters' lives would be like from now on. I already had the sequel on my Kindle, so I felt like I had to read it. But if I had not had it by then, I may not have ever wanted to read it.
The story opens up with Elena having nightmares and feeling like she's not good enough for Adam. She pushes him away because of it and feels bad about it, but does nothing to fix or end her relationship. Reading about it was really annoying. She never tried to push him away in the first book because she wasn't "good enough for him" so the fact that she's doing it now makes little sense. I assume it's only happening to add drama to the story. I don't like it when couples fight or push each other away for no reason instead of just communicating, so this is really off-putting.
For the few weeks (or months?) that Elena has been free, she has been followed around by people from Aether Corp. At the point that I stopped reading, she and Adam were picked up by a car that would take them to the Aether Corp facility. I should have been intrigued about what they wanted with Elena, Adam and Chris. Instead, I was just bored.
And so, I am DNF-ing this book for now. I hope to pick it up again in the future, since Elizabeth Briggs's books tend to be quick reads. I'll save it in the hopes that someday I will miss these characters and want to read more about them. Even if it does feel like their story should have ended in book one.