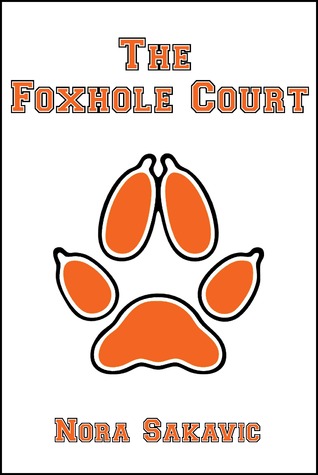 Title: The Foxhole Court (All for the Game #1)
Author: Nora Sakavic
Genre: Contemporary

Publication Date: January 15th, 2013
Purchase links: Kindle Edition | Paperback
My rating: ★★★★★
Summary:
Neil Josten is the newest addition to the Palmetto State University Exy team. He's short, he's fast, he's got a ton of potential—and he's the runaway son of the murderous crime lord known as The Butcher.
Signing a contract with the PSU Foxes is the last thing a guy like Neil should do. The team is high profile and he doesn't need sports crews broadcasting pictures of his face around the nation. His lies will hold up only so long under this kind of scrutiny and the truth will get him killed.
But Neil's not the only one with secrets on the team. One of Neil's new teammates is a friend from his old life, and Neil can't walk away from him a second time. Neil has survived the last eight years by running. Maybe he's finally found someone and something worth fighting for.
Review:
"It's not the world that's cruel. It's the people in it."
The Foxhole Court follows Neil Josten, the son of a crime lord. After years on the run, he is approached by a coach from an Exy team who wants to recruit him. Since Exy is Neil's one true love, he agrees but secretly plans to stay with the team for only a few months.
The Foxhole Court is a book that's not for everyone. I almost didn't read it because I thought it wasn't my kind of book. Everything about it seemed like the opposite of what I would enjoy: unlikable characters (to put it lightly), crime, drugs, alcohol, sports, and murder. And while I was right to an extent, and the book wasn't entirely enjoyable, it was so addicting.
I was hooked from the start: horrified at some events, curious and confused about relationships between characters, and not entirely against the descriptions of Exy, a made-up sports that only makes a little sense to me.
"Remember this feeling. This is the moment you stop being the rabbit."
This is a character-driven story, so at times it feels like there's no much of a plot, although there is a lot going on. The book focuses on Neil getting to know his teammates and struggling to adjust to not being on the run. The characters are the ones who carry the story, the ones who make things happen when nothing else is going on.
Everyone on the team is troubled and problematic (some more than others), and most them are hard to like. Even though I couldn't stand a few of them, I wanted to know all about why they were the way they were. Every time a little bit of information was revealed about any of the characters, I was left wanting more. They were terrible, but it was clear that there were circumstances that made them that way. I wanted to know what those circumstances were.
"Being related doesn't make us family."
Overall, I was really surprised by The Foxhole Court. I'm really looking forward to reading the next two books and finding out what happened and will happen to each of the characters. I sense a lot of character development coming.