"Waiting On" Wednesday is a weekly event hosted by Breaking the Spine, in which bloggers highlight upcoming releases they are highly anticipating.
For my first "Waiting On" Wednesday, I have chosen a book that showcases one of my true loves, Hamilton.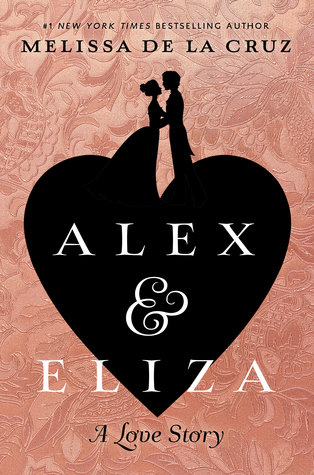 Title: Alex and Eliza: A Love Story
Author: Melissa de la Cruz
Publication Date: April 11th, 2017
Goodreads Summary:
From the #1 New York Times bestselling author of The Witches of East End and The Descendants comes the love story of young Alexander Hamilton and Eliza Schuyler.

1777. Albany, New York.

As battle cries of the American Revolution echo in the distance, servants flutter about preparing for one of New York society's biggest events: the Schuylers' grand ball. Descended from two of the oldest and most distinguished bloodlines in New York, the Schuylers are proud to be one of their fledgling country's founding families, and even prouder still of their three daughters—Angelica, with her razor-sharp wit; Peggy, with her dazzling looks; and Eliza, whose beauty and charm rival that of both her sisters, though she'd rather be aiding the colonists' cause than dressing up for some silly ball.

Still, she can barely contain her excitement when she hears of the arrival of one Alexander Hamilton, a mysterious, rakish young colonel and General George Washington's right-hand man. Though Alex has arrived as the bearer of bad news for the Schuylers, he can't believe his luck—as an orphan, and a bastard one at that—to be in such esteemed company. And when Alex and Eliza meet that fateful night, so begins an epic love story that would forever change the course of American history.

In the pages of Alex and Eliza, #1 New York Times bestselling author Melissa de la Cruz brings to life the romance of young Alexander Hamilton and Elizabeth Schuyler.
According to the author, Alex and Eliza follows the title characters from the moment they meet until they get married. This is exciting to me because it's basically their relationship during Helpless, which is made to seem so beautiful that I always fall a little bit in love with Hamilton when I listen to it. (All thanks to Eliza.) Reading about them during the beginning of their relationship is bound to be even better than listening to Helpless.
Another reason I'm excited about this book is because there won't be any hint of romance between Angelica and Alexander. Their "romantic" relationship is my least favorite thing about Hamilton. So naturally, I am extremely excited about them being only good friends.
I have extremely high hopes for this book. It needs to come out already.